....
APHRODISIA: A Passion Drink
1 pinch Rosemary
2 pinches Thyme
2 tsp. Black Tea
1 pinch Coriander
3 fresh Mint leaves (or 1/2 tsp. dried)
5 fresh Rosebud petals (or 1 tsp. dried)
5 fresh Lemon tree leaves (1 tsp. dried lemon peel)
3 pinches Nutmeg
3 pieces Orange peel
Place all ingredients into teapot. Boil three cups or so of water & add to the pot. Sweeten with honey, if desired. Serve hot.
Thank you to the mysterious "M.A." for this one!
WINTER PUNCH (body balancer)
4 tart apples
2 lemons
5c. water
4t. honey
4t. apple brandy or cider
Quarter apples and lemons. Put in a glass pot add water and bring to a boil leave the heat immediately. Simmer for about 10 min. Strain add honey and cider or brandy.
PEPPERMINT-ALFALFA TEA (purifier)
1c. peppermint or spearmint or beebalm leaves
1c. dried alfalfa leaves
Mix as a tea.
LEMON MINT BLEND (digestive and or cold aid)
1/2 c. dried peppermint leaves
1c. dried alfalfa leaves
3t. dried lemon balm leaves
3t. dried, grated organic lemon rind.
Mix as a tea.
CLOVER TEA BLEND (detoxifier)
2c. clover blossoms
2 thin sticks cinnamon, bruised
1tsp. grated dried orange rind
Steep for 5 minutes or until able to drink if you want it hot or chill. Which ever you prefer.
ANTICHILL - COLD GINGER WINE/WHISKEY
1pt. brandy
several pieces fresh bruised ginger root
Steep 1-2 t. root in brandy or whiskey for 7-10 days. Strain, use in tsp. doses when you have a cold or chill or add a tsp. to hot peppermint tea or sage tea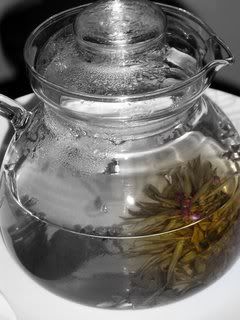 .